I think it's working!
I'm already inspired. So inspired, in fact, that tonight I finished Mr. Nekkid's scarf! This has been a WIP for, oh, six or seven months now. It was just really hard to work on it during an Oklahoma summer - it was like a little skinny lap blanket. But now it's done, just in time for the 70 degree November weather. >.<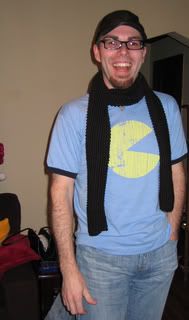 Pattern: simple moss stitch, CO 23
Yarn: Debbie Bliss Cashmerino Superchunky in black
Needles: Crystal Palace Bamboo, sz. US 10.5
Finished size: approximately 5.5" wide by 6' long
Now I just need to finish the Pea Pod Baby Sweater for the baby that's due in January. It has lacked only attaching the sleeves for, oh, two months now. I've never actually done that before, and I want it to be
just right
. I need to take it to the LYS and get some help...but I'm trying to resist because that place is always bad for my budget. And it's already stretched pretty thin thanks to all the things we needed for the move. Oh well. Someday soon I'll just have to leave the CC at home and venture out...