Fickle-hearted woman.
Good news first: I found the rest of the yarn for Cozy! Not surprisingly, in the same box was also my red Cashmerino! Hoorays!
So much for not starting anything new. But this is necessary, honest...see, it turned cold today. Yes, I have scarves, but what I don't have is a scarf made out of cashmerino that will actually keep me
warm
. I have cheapy synthetic scarves that do nothing to insulate - they just make me sweat underneath them, and offer no protection at all for when the wind actually picks up. And I couldn't steal Mr. Nekkid's scarf because he actually bothered to wear it today. Since the Cashmerino has been found, I cast on - with apologies to Judy Blume - the Wifey scarf tonight. (I figured it was only appropriate since I called the previous one Hubby.)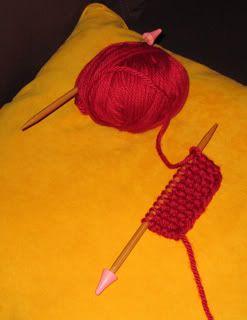 Debbie Bliss Cashmerino Superchunky in red, Crystal Palace bamboo DPNs (only because that's what I happened to have) sz. US10.5, moss stitch with 13 stitches cast on. For comparison, the Hubby scarf had 23 stitches. It is approximately 3.5" wide, and I will probably use 3 skeins for it too. Yes, that will result in a scarf significantly longer than I am tall, and yes, that is exactly what I want. :) Surprisingly enough, even though I used the flash on this, the color is fairly true. Maybe this throw pillow is an ideal backdrop for such things...maybe it's so bright that the camera thinks it needs less flash. Who knows...but I'll have to try it again and see if the results can be duplicated.
Meanwhile, Cozy will be relegated to WIP storage (also knows as my living room floor) until Wifey is finished. I just have to finish quick, because Cozy needs to be done by the first week of February. It takes me just over 1 hour to finish 1 pattern repeat, and my roughest estimates indicate that I will need about 50 more repeats. Yes, I could technically knock that out in a week or so...if I did nothing but work and knit. Mr. Nekkid, however, has the expectation that he will be able to spend at least a little quality time with me here and there (I know, the nerve!) so that's not going to happen. Instead, once I'm back on it, I'll shoot for one repeat per weekday, and two repeats per weekend day. Hopefully that will enable me to finish it before the deadline even if I don't get back to it till after Christmas.
In other news, we met Tallulah on Tuesday night. We were very taken with her, and have stepped up preparations to bring her home. In keeping with my tradition of putting the cart before the horse, I have already chosen her food dishes, bed, litter box, toys...but have no concrete plans on where these objects will actually go. Ah well, it will all come together. I would have spent tonight getting some of those things in order, but instead, I spent it baking a
Praline-Pumpkin Cake
. (Recipe calls for store-bought icing but I made
C&H Cream Cheese Icing
instead.) Yum yum. I'll probably make it again (if for no other reason than to use up the leftover pumpkin) for Thanksgiving. Oh, and Sunday's project is the
Hershey's Brownie Cemetery Cake
...my boss turns 50 on Monday. >:-D There will definitely be pictures of that.
Nighty night!