Wifey is done!
That didn't take nearly as long as I expected.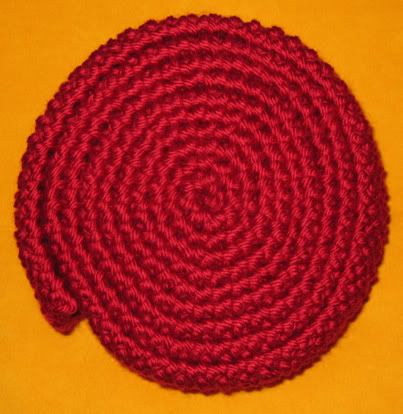 Three skeins of Debbie Bliss Cashmerino Superchunky in red
Crystal Palace bamboo sz. US 10.5
13 stitches cast on, simple moss stitch pattern
Finished size: approximately 3.5" wide by 100" long
Since I have so much time before I
need
to finish Cozy, naturally I've started something else instead.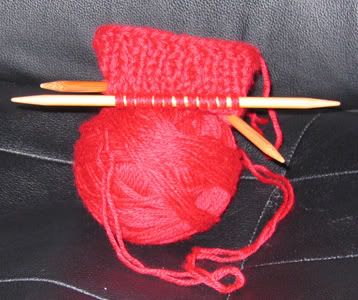 Pattern:
Cabled Christmas Stocking by YarnThrower
Yarn: Two strands of
Red Heart Soft Yarn
in Wine (color is not well-represented in this photo...it really is a nice wine/maroon color)
Needles: US 10.5 Crystal Palace DPNs (Yes, this is quite a bit smaller than the pattern calls for. But Wal-Mart didn't have anything even close to US 13 so I had to use what I had on hand. No, I couldn't wait until the LYS opened tomorrow...)
Gauge: Nowhere near what is called for. But it's a Christmas stocking...it doesn't really matter much. A smaller stocking just means that pretty much only cash and gift cards will fit. :P
Labels: Cabled Christmas Stocking, FOs, scarves, Wifey, WIPs