I am weak.
I was able to resist buying a $23 pair of earrings yesterday, because I'd just spent $27 the night before on that yarn at LYS. But later in the day, we ended up at Joann's, and, well...I had an accident.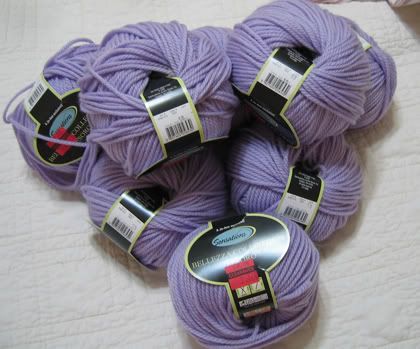 I have been collecting this yarn for months. It retailed for $5.99/ball. Every other week, I'd go and buy a ball (always of the same dyelot) with my 40% off coupon. Then one week I went in and it was on sale for 35% off, so I bought all that was on the shelf (maybe 6 or 7 balls). At that point I think I had a dozen balls. I know where at least half of them are...the rest must be in one of the various stash-management attempts I have here and there. Anyway, yesterday when I went in to Joann's (I was only looking for buttons for the baby sweater, honest!) I made the mistake of going down the clearance aisle. There, on the bottom shelf, was my beloved lavender Tesoro. Marked down to $2.37/ball. I bought all eight that they had in the right dyelot. I feel I showed admirable restraint in not buying the other two orphans while I was at it. I also managed to leave behind the several balls of yellow (more than enough to make a cute little baby set) in the bin.
I am still weak, though. I'm considering heading to the other Joann's in town to clean them out, too.
Clapotis is still progressing. I've started straight-row repeat #13 (granted, only one row of it is done). But still. This is the last repeat before I get to DECREASE. I think it'll be finished by this weekend...in fact, I'm sure of it (unless something crazy comes up).
Oh, and since it's been a while since I've given a Tallulah update, I'll leave you with the link to
this video I posted on YouTube
. She's really come out of her shell and gotten playful. Her favorite toy? Ponytail holders, which she steals out of my purse. Mr. Nekkid actually caught her in the act of digging around in my purse with her paw (no, really, I'm not kidding). I'm sure that when we move, we'll find a bunch of these things underneath the couch and coffee table and bookcases and...anyway. Watch the video...she's cute!