WIPs
I'm trying this crazy thing. I'm finishing old projects before starting new ones. Weird, huh? I went through my stash and frogged a few things, and picked up others that have been in progress for a while. Project 1: Clapotis.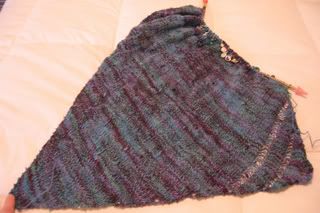 This is what it looked like when I picked it back up about a week ago. I was somewhere in the middle of the fourth straight row repeat.
This is what it looked like this morning. And I've done a few more rows...in fact, I just finished the tenth straight row repeat. Three more, and I get to start decreasing! WOOOO!!
Meanwhile, Friday night is sweater night at the LYS, so I finally got back to Mr. Nekkid's sweater last night. It looks incredibly similar to the last pic I took...just a few more rows of grey. I think the stripe is just about wide enough, and then soon I'll have to figure out just exactly how long the sleeves need to be. Eek.
Finally, a little yarn pr0n. I have absolutely no idea what I'm going to do with this, but it's MINE.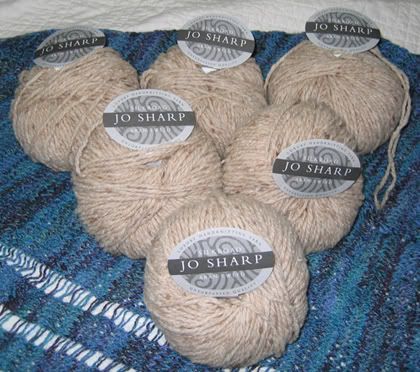 Six balls of Jo Sharp Silk Road Aran Tweed, from LYS sale wall (50% off!). I hope I have enough to make myself a nice cozy wrap or something.