Progress
The increases are done on sleeve #1. I tried it on him last night - it fits perfectly!! I originally intended to make one sleeve at a time, but I decided that won't do. I want them to be exactly the same. So I bought another #8 circ today...I'll work sleeve #2 to the same point I'm at on sleeve #1, and then probably alternate 5 rows at a time or something.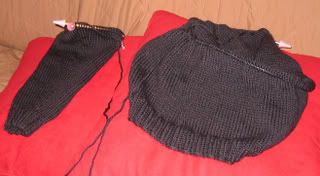 The sweater is about 8" long, and the sleeve is 12.5". Incidentally, this is just below the bend of his elbow. I increased 2 stitches every 5 rows, and the increases were done on row 65 (not counting the 10 rows of ribbing for the cuff). It's hard to capture in black yarn, but I love the way the increases look...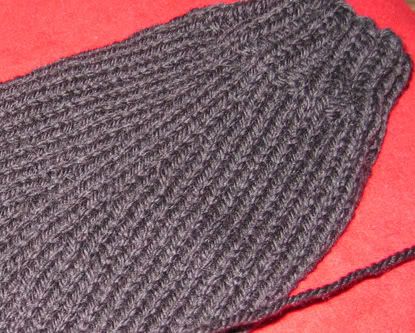 There's a strip of 3 stitches that remain constant, and you increase one before and one after. It almost looks sort of like a seam or something. Anyway. I'm going to go cast on for the other sleeve now, and watch some more Northern Exposure Season 1.