Catching up
This is nowhere near all the washcloths I've made in the last three months, but several were made just in time for baby showers. Since the beginning of the year, ten women I know have either announced a pregnancy or given birth. Actually, only two are still pregnant. Girls mostly, so there has been much pink in my life, and there is more to come, as one of the remaining expectant mums just found out she's having a girl. This is for her: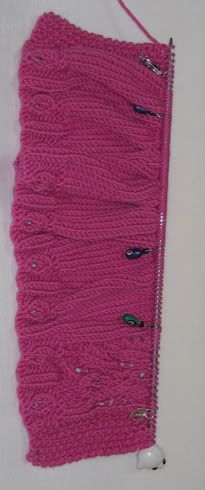 Pea Pod Sweater #2, in Debbie Bliss Rialto (a springy, luscious, superwash DK weight merino). I started it Friday evening, and I'm 32 rows in. This amounts to about 5", which means I'm just over an inch away from the armholes. Learning from past mistakes, I will not be attempting to sew the sleeves on myself. I found out that a girl at my LYS will sew seams for $10/hour, and I'm SO going that route this time. After all, I paid ~$35 just for the yarn, so why would I settle for mediocre seaming? I'm excited, though...I really enjoyed this pattern last time and it's just as fun this time. Then I'll be making a hat and little booties, eeee!
I'm also still working on Mr. Nekkid's sweater, though it's on hold while I work on the baby sweater. I'm just a few inches away from attaching the sleeves, which terrifies me...but I guess I'll figure it out.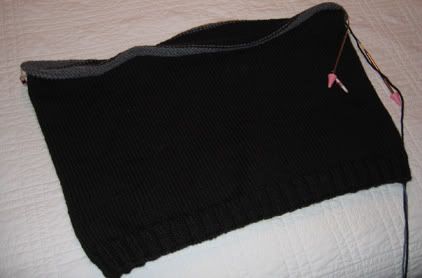 Last but not least, my new toy!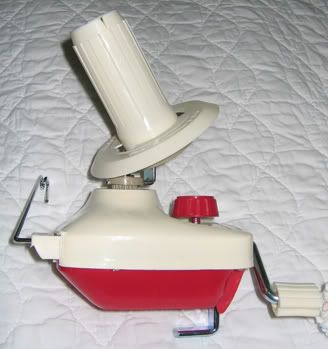 Yes, it's the cheapy model, but with the 50% off coupon from Joann's, it was only about $25 shipped. This is about what they're going for USED on eBay. I think Mr. Nekkid is getting me a swift for my birthday, but that's not stopping me from winding everything that isn't nailed down. :D I just love the little cakes of yarn that a winder makes...they're so cute!
Oh well, laundry calls.
Labels: FOs, PPBS, sweater, washcloths, WIPs