The stockings were hung by the chimney with care...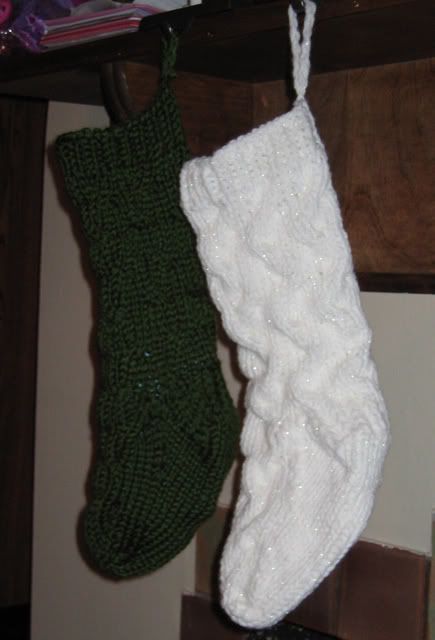 (Tallulah's is absent because a) I haven't made a loop for it and b) we only have two stocking hangers anyway.)
Mr. Nekkid's is two strands of Red Heart Soft Yarn in Grass Green, and mine is two strands of Lion Brand Wool-Ease in White/Multi. I think it looks a little like snow. :) I used Crystal Palace US 11 DPNs.
I'm so proud of these! I did better on the grafting on Mr. Nekkid's stocking, and I think I finally got the hang of it with mine (third time's the charm, after all). I had so much fun with them that I'm thinking about making mini-stockings for my coworkers. Dunno if I'm that ambitious or not...
Tallulah
is settling in nicely. She still hides a lot - her favorite spot is still behind the couch - but she seems to be getting accustomed to sleeping in her bed, too. We can only hope that someday she'll be comfortable enough to just lounge around somewhere out in the open.
Short one today, I know, but my friend got me the first season of House on DVD and I can't wait to watch some more of it. I've got to find a project that's mindless enough to let me glue my eyes to the screen. :)
Labels: Cabled Christmas Stocking, FOs, Tallulah