Bleh.
One of the pharmacists at work recently found out that her first grandbaby (a boy) is on the way. I told her long ago that I'd be happy to make her a baby sweater when the time came. So I went through my pattern books and found
Debbie Bliss's Shawl Collared Jacket
. I'm a sucker for shawl collars, and since this was in a book called "Baby Knits for Beginners", how hard could it possibly be? So one night while watching a movie I started on the back. I knit about 4" or so - pretty quickly, since she picked out an aran weight yarn - and started thinking "Gee, this looks kind of big."
According to
garment sizing standards
, an average 6-12 month baby is going to have a 17-18" chest. Now, in baby clothes even moreso than adult clothes, I understand the importance of ease. But the 12 mo. size in this pattern calls for a 25" chest. 7" of ease? Really? I guess all the extra is so you'll have to buy more Debbie Bliss yarn to make it. So I ripped it out and started over again, aiming for 9.5" for the back. (
Here's
the difference between the two.) But then I got frustrated because I was going to have to refigure the decreases, plus I found a frayed spot in the yarn, so I ripped it out again. So have I been rewriting the pattern to suit myself? Of course not: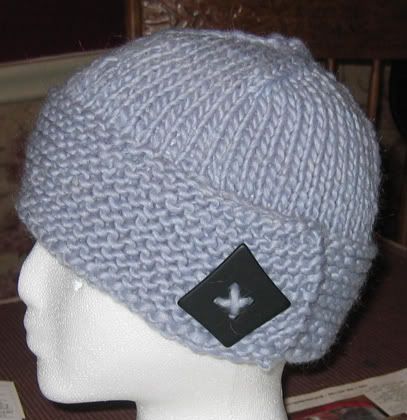 Pattern:
Robin's Egg Blue Hat
by Rachel Iufer
Pattern mods:
- 68 sts for the band
- 56 sts for the hat itself
- Garter stitch band with no point
- Decreased 4 sts per row every row: k12, k2tog, then k11, k2tog, etc. until there were 8 sts left.
Yarn:
Brown Sheep Lamb's Pride Bulky
, in M47 Tahiti Teal and an unknown color, about 3/4 of a skein of each that I inherited from my grandmother.
Buttons are from Joann's. These are going to go to charity - I like the style, and they fit me, but I think the spot where the band overlaps itself looks a little funny because it's so thick. Eventually I'll make myself a hat with a wide garter stitch band and just sew a button somewhere on the brim.
I really do need to get going on the baby sweater again...the baby's due in September. I know that's still a while away but, well, I have a tendency to procrastinate. :)