Knitting fool
I have really been knitting a lot lately. During Thanksgiving week, I watched
40
episodes of
Law & Order: SVU
on Netflix and finished three projects. They were all small projects, but I still felt very productive!
First up, my new love: a Baktus scarf. This is intended for a Dirty Santa exchange at work this week. I'm already wondering just how tacky it would be if I picked my own gift...because I rilly rilly want it for myself! If I weren't completely destitute* at the moment I would be at Loops getting more of the exact same yarn.
Pattern:
Baktus
Yarn: 2 skeins of
Mirasol Hacho
in colorway 312
Needles: US 9
Knitting time: two days - literally. I spent all day Saturday and Sunday after Thanksgiving working on this scarf. But it's done and it's lovely and I hope the recipient appreciates it!
Next, we have two "Pretty Things" from the pattern by
Stephanie Pearl-McPhee
. I don't buy patterns very often, but I had to make an exception for this.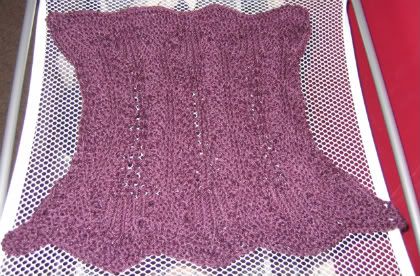 Don't they look like little corsets? :)
Pattern:
Pretty Thing
Yarns:
Berger du Nord Charmant
in color 9040 (blue) and
Knit Picks Gloss Sock Yarn
in Cosmos (purple)
Needles: US 7 (blue) and 5 (purple)
Knitting time: about 12 hours each.
Mods: One repeat was added to the purple one. In the future, I would add a second...I just knit SO tightly that it's necessary. But that one was for the other Dirty Santa at work and it went with a woman with a slender neck so I'm sure she'll be fine.
I finished two other projects but they're both gifts...and on the slim chance that the recipients read this blog, I won't be posting pics till they're received.
On the needles:
Big Bad Baby Blanket
in
Knit Picks Shine Sport
in cream. This is for my hairstylist, who is having a baby girl in February.
Tabbed Cuffs
in the leftover Hacho. Yet another reason I really need a Baktus of my own. :)
Hopefully Santa will bring me a new digital camera (or better yet, an iPhone or something comparable, because I need a new cell phone too). The one we have now was a MUCH appreciated wedding gift, but it is now 4.5 years old and starting to flake out. With increasing frequency, the screen flickers purple, and if you take a picture before it settles back down, it will turn out purple and streaky. Additionally, most of the pics turn out at least a little purple at the edges. Ah well, it was a wonderful camera while it lasted.
* - Okay, so I'm not
completely
destitute. All our bills are paid. There's just not much leftover till we get our money from the gubmint!