Don't let the door hit you on the way out, 2009.
I am so, SO glad to see 2009 in the rearview mirror. As far as I can remember, only 2008 was worse for sheer misery. So I'm really happy to kick this year off right. Mr. Nekkid is starting a new job today, and he's back to making almost what he was before he was forced to leave his previous job. This means that 2010
WILL
be the year we start to dig out of debt. The first-time homebuyer credit that we're expecting any day now will give that goal a huge kick-start, and it's all uphill from there.
Without further ado, I present a parade of FOs and WIPs.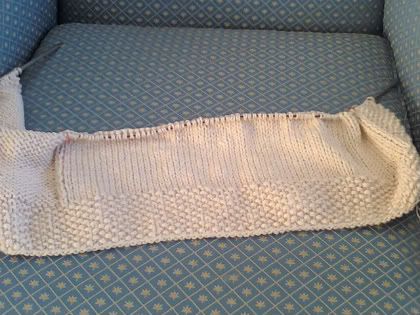 Big Bad Baby Blanket in progress. I've lost momentum on it...really need to get motivated to work on it again.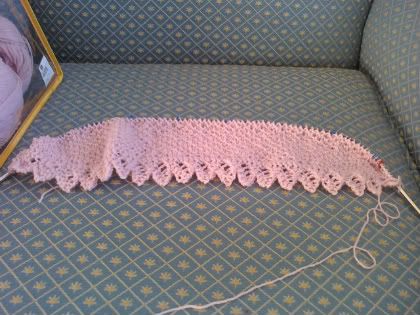 Pattern:
Whipped
(I can't help but call it "Whapow!")
Yarn:
Rowan 4 ply soft
in 395 light pink, purchased during the after-Christmas sale at Loops for 75% off! I also got two balls in cream. They're different dyelots...but it's cream, for crying out loud.
Needles: US 7
Pattern:
Cedar Leaf Shawlette
Yarn: 2 skeins
Malabrigo Silky Merino
in 63 natural
Needles: US 7
This was also purchased (as a kit) during the Loops after-Christmas sale. I got there in time for the doorbuster and picked it up for 40% off! I never could have afforded it otherwise. And I wound up with one skein left, too! Can't wait to turn that into something luscious...I just have no idea what yet.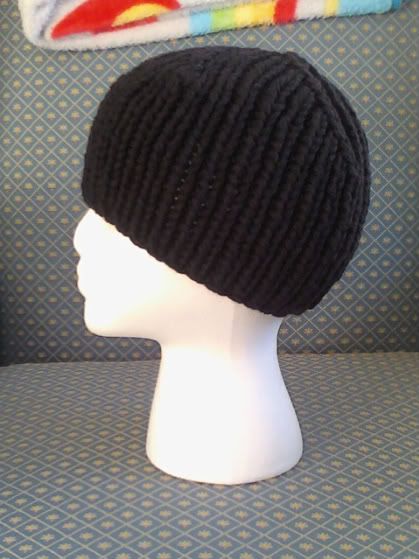 Pattern: 1x1 ribbing
Yarn: probably
Patons Classic Wool Merino
in black, held double
Needles: US 11
This is for the pharmacist at Prime. He requested a sturdy hat suitable for Minnesota winters. If two strands of worsted 100% wool isn't warm enough, I don't know what else I can do. :) I have to add a brim to it and then it's done!
Pattern: improvised...I'm calling them texting gloves
Yarn:
NaturallyCaron.com Country
, a surprisingly nice acrylic/wool blend
Needles: US 8
Buttons from Joann
Ah well. I suppose I should call it quits for now - housework beckons and I can't tune it out anymore.