Quickie
Apologies for the radio silence. I slipped and fell on the ice and sprained my wrist at the end of January, so there was no knitting for me for nearly a month. And then I was just lazy for a while. :) But I recently finished a darling hat and I had to share. I think it only took me about 4 hours, and that was stopping and starting.
Pattern:
Brangelina Hat
by Laurie Perry
Yarn: Red Heart Super Saver in Pretty 'n Pink
Yarn and color were chosen by the recipient :)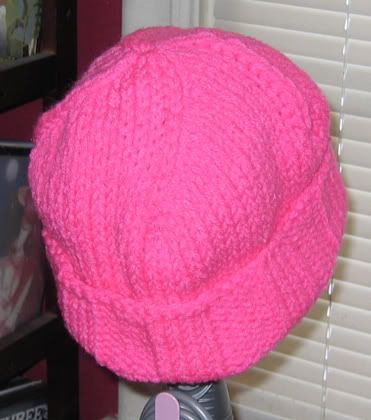 Meanwhile, we're having some belated winter today. Here's the view from my front porch as of about 10 minutes ago: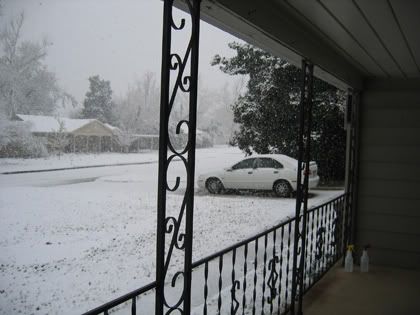 See all the snow piled up on the back of my car? I just drove it less than an hour ago, and there was no snow at all accumulated on the rear windshield. Heck, I stopped at Braum's for breakfast and was there less than 10 minutes...and had to run the defroster for almost 5 to get my windows clear enough to see again. It sure is pretty, though. :)
Here's
a link to another, slightly larger pic. Look how large the snowflakes are! I swear some of them are the size of large marbles.
Next up: convertible mittens to match the hat, followed by a double knit hat with a pirate motif called Yar! Special request for Mr. Nekkid...and since the library book is already at least a week overdue (even after renewing!) I guess I'd better get cracking. :)