On a roll
I finished another languishing WIP today. It's a panta, and I'm pretty sure that it's been on the needles since March or April. (I remember putting it aside when it ceased to be frigidly cold earlier this year.)

It's made out of...well, I don't really remember. I think maybe something by Blue Sky Alpacas. Whatever it is, I know I only bought one skein of it, and I still have a little left over.
Then there's today's LYS 30% off purchases: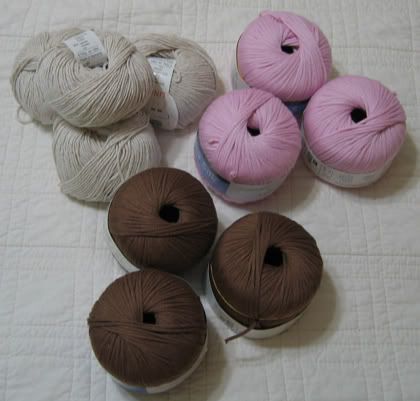 - 3 skeins Berroco Ultra Silk (40/40/20 rayon/nylon/silk) in color 6119
- 3 skeins Berroco Ultra Silk in color 6147
- 4 skeins GGH Linova (74/26 cotton/linen) in some unbleached cotton-ish color
The Ultra Silk is destined to become more wine bottle bags. I'm hoping to refine the pattern a bit and submit it to Knitty. Haven't a clue what to do with the Linova, but I'm sure I'll think of something.
Lastly,
my bday present from Mr. Nekkid
should be here soon! I'm very excited. :)