Quick update
Have I mentioned that I'm a flake, who finds it difficult to follow through with things? Anyway, here are a couple things I've been working on: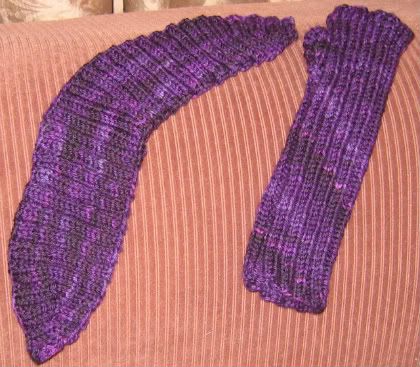 Yarn: Colinette Cadenza in Velvet Bilberry.
On the left, a Calorimetry that lacks only a button. It has lacked said button for about a year now. On the right, one half of a pair of fingerless gloves. I was actually within an inch of finishing the second one when they were put away to hibernate. I pulled them out last week to finish for Mom's Christmas present...and found a hole waaaaaay down practically at the beginning. I have no idea how it got there. I suppose it could have been a moth, but why would there only have been one small hole? Anyway, I had to frog the whole thing, and it makes me want to throw up when I think about it so I haven't started over just yet.
Yarn: Art Yarns Supermerino in colorway 138, varying shades of purple and a little dark grey/black thrown in too. About 2.2 skeins for a scarf that's about 3.75" x 66".
Pattern:
Yarn Harlot's One Row Scarf
. Love love love this pattern...I fully intend to make more.
The lovely little closure is by
Romi
. Great investment - it holds the scarf in place to close that little gap that always seems to be between whatever's covering your neck and whatever's covering your chest. I can't wait to get one of her shawl pins...I'm finally getting into wearing my Clapotis but find it awkward to keep throwing it over my shoulder.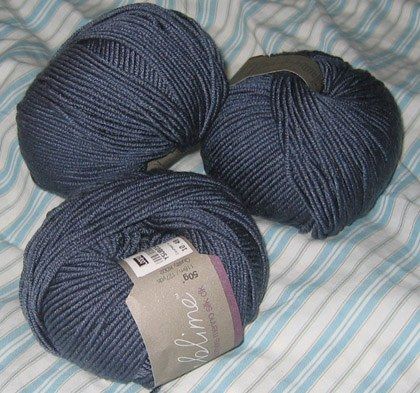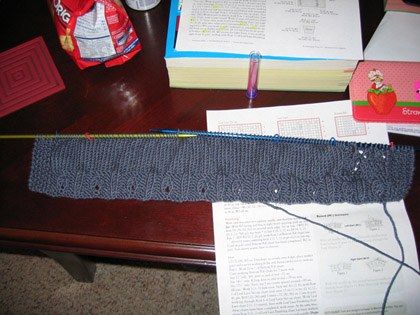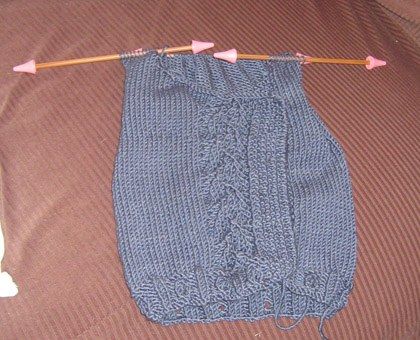 Yarn: Sublime Cashmere Merino Silk DK in colorway 0055, which feels and works up very much like Debbie Bliss Rialto (which I used for PPBS #2). The color is truest in the pic of the yarn itself.
Pea Pod baby sweater #3, for a baby that's now nearly a month old. Oops. I expect to finish it this week, though, and it should still fit her just fine.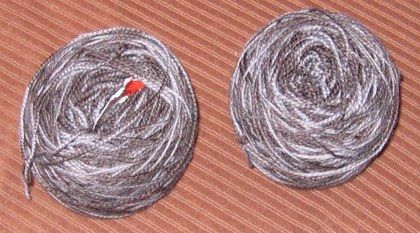 Plymouth Yarn Happy Feet in colorway 18. This is also somewhat washed out by the flash. This is intended for a pair of fingertip-less gloves for Mr. Nekkid as soon as the baby sweater is finished. I'll be winging the pattern, because he has crazy skinny wrists but an otherwise normal-sized hand. I want them to fit him really well, so I may even do a wide rib on the hands...something to make them rather form-fitting. I don't expect to need both skeins; in fact, I'm hoping to have enough leftover to make myself a pair too.
Bigger, longer term goals that will require much more concentration and attention to detail:
- make
Twist + Shout
in that lavender Tesoro I've had forever. I have 22 balls, but would need about 3 more to make the size I need...well, a very kind Raveler is sharing hers with me. It's even the same dyelot! I'm expecting it to take a good long while.
- make
Leo
for Mr. Nekkid out of my
Paton's Classic Merino in Chestnut Brown
. I haven't decided yet...I may add a cream stripe across the chest.
- perhaps make
Retrofit
for Mr. Nekkid as well, although I'd do black and grey. This style would look great on him, but I'm quite intimidated by the prospect of installing a zipper. Seems like Grumperina had a really good zipper-installing blog post a while back...I'll have to see if I bookmarked it.
Oh yes, non-knitting-related update: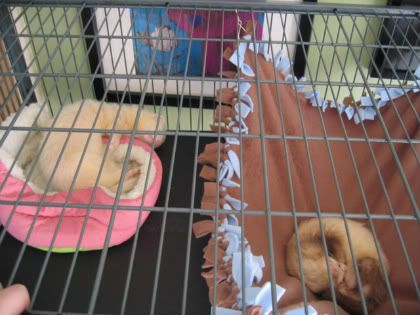 Meet Felipe (left) and Andi (right), our ferrets. Felipe is an adolescent male (about 6 months), and Andi is an adult female (about 2). The cat still doesn't know what to make of them.