Magical Moebius Knitting
I've been enthralled with Cat Bordhi's
Treasury of Magical Knitting
books for quite a while now. I checked them out from the library several times each, and finally bought them from amazon.com with a gift certificate I earned through MyPoints*.
The cast-on is ridiculously fast. She calls it MCO - Moebius cast-on - and it is essentially a provisional cast-on. I MCO'ed 269ish stitches in about three minutes...yeah, long-tail cast-on is fast, but I don't think it's that fast. I say 269ish because despite counting several times, at the end of my first round, I had 11 extra stitches. It worked out great, though, because the lace pattern I'm using is an 11 stitch repeat.
Anyway. The first half-round is the hardest part. Every other stitch is mounted backwards and you have to knit it through the back loop. The stitches are also spaced oddly at first. But once you past the first half-round, it's easy peasy. Suddenly everything is where it should be and all is right with the world.
I'm making a lace shoulder wrap from the first book. I substituted Brown Sheep Cotton Fleece in Lapis for the recommended yarn, and adjusted the number of cast-on stitches to accommodate the slightly different gauge. (Half a stitch per inch is a lot when you're talking 48-50 inches.)
So I'm nearly through with round 7, after starting it Thursday (?) night. (The cast-on number is deceptive. You actually end up with twice as many stitches as you cast on, because you're knitting both the top and bottom rows at the same time. Therefore, in my case, each round is 550 stitches. The upside is that I only have to knit 40 rounds.)
(Click for a close-up that traces the edge(s) of the wrap. It'll blow your mind...)
It's slow going, but I'm hoping to have it finished in time to wear it to the fair, assuming there's a chill in the air when we go. One never knows with this time of year in Oklahoma. Our fair is always the last weekend in September and the first weekend in October, and I can think of times when it was freezing, when it was raining, and when shorts and a t-shirt felt like too much clothing.
Other projects currently on the needles:
Dream Swatch, currently just shy of 28" long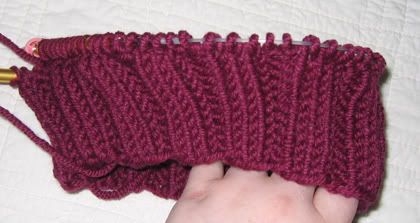 Very basic 3x2 ribbed hat in the merino/alpaca/silk blend previously scored at Tuesday Morning. (I also got several more balls of it at the other Tuesday Morning store near my house, so I now have plenty to make a hat, scarf, and probably fingerless gloves...and will probably even have some leftover after that.)
* If you're interested in signing up with MyPoints, let me know and I'll send you a referral email.