'Tis the Season
Recently, Mr. Nekkid asked me if I'd given any thought to what I wanted for Christmas. Deciding that it was probably best for me not to ask him what sort of idiot would ask me a question like that...since I've pretty much already decided (for the moment) what I want for the next 10 Christmases...instead I said, "Well, I may have given it some thought. You know, in passing." "Oh? So what might you want?" "Ummm, well, just off the top of my head...a KnitPicks Options Nickel-plated interchangeable needle set?"
I pretty much forgot about it after that. That is, until the new KnitPicks catalog came in the mail a week or so later. Lo and behold, my beloved interchangeable set is on page 3. So I left the catalog open next to the computer:
I am nothing if not subtle.
Two skeins of Cascade 220, procured from ebay for a good 30% off retail. Woo!
A destashing hat, using scraps of Cascade 220 and random worsted cotton. Although the Cascade went way farther than I expected...and I basically made the whole hat out of it. The cotton ran out just shy of the decreases, so I found some more to finish it off. It's destined for charity.
A hat out of Cascade 220, using a stitch pattern from the first Vogue Stitchionary. It was intended for me, but I got anxious and ended too soon, so it turned out too short. It'll fit someone, though, so it's going to charity too.
Washcloths and a bib to give to a friend, along with...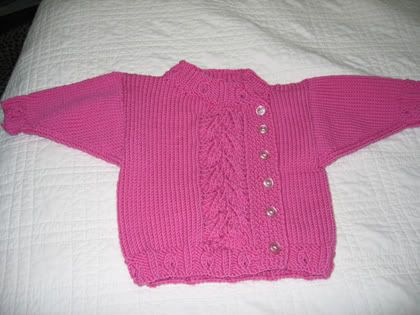 The Pea Pod Baby Sweater, now with buttons! (I found them, like, two days before the baby shower and sewed them on the night before.)
That's all for now. I have some more yarn pr0n to share but I think I'll pace myself.
Labels: FOs, PPBS, washcloths, yarn pr0n