Me & Stephanie Pearl-McPhee
Mr. Nekkid and I drove to Wichita Saturday evening, in order to go see the Yarn Harlot yesterday. This is actually the second time I've seen her live...she was in Oklahoma City last year to promote
Knitting Rules!
Anyway, yesterday morning we were killing time between checking out of the motel and going to the event. We were hanging out at Barnes & Noble, and I was feverishly working on my charity hat, intended to be donated at the event. I'd seated myself in one of four cushy chairs arranged in a square, deliberately next to the chair that seemed to be saved with a coat. (I'll always choose to sit side-by-side, rather than facing, a stranger. Somehow it seems easier to ignore someone if you don't have to look at them.)
A little while later, the occupant of the chair reclaimed her seat. She asked what I was working on, and I told her, and she started telling me how she learned to knit as a little girl. We chatted for a while, and I told her why I was in town. Eventually, she expressed an interested in attending the event. Tickets were required, but I'd gotten one for Mr. Nekkid...and he'd already told me he'd rather hang out at Borders instead. So I offered her his ticket, and warned her to get there early.
I took my own advice, and got there at 1:00 (it started at 3:00). Only one other car was there, so we both just stayed in our cars. It was warm, but there was a good breeze so we just sat there with our windows rolled down, knitting and waiting. Finally a third car showed up, and those ladies explored the building looking for an open door. It was still locked down, so they finally returned to the designated entrance and set up camp. My neighbors decided to do the same, so as to secure their place as first in line (they had earned it, after all). I opted to stay in my shaded, if overheated, car so I would not get sunburned due to the lack of shade near the entrance. If I'd wanted to sit on the ground, I could have sat under a small tree...but being third in line just wasn't THAT important to me. :)
A few more people arrived, but I stayed in my car, figuring I'd get out either when a crowd started to gather, or they opened the doors, whichever came first. Luckily, the latter happened just before the former. (This also happened to be almost the exact moment that I was snipping the woven-in ends off the hat...I'm glad I knit those couple of rows while waiting for a train to pass.) We were allowed in to the hallway at 2:00, and within minutes the line stretched out the door. Sadly, what was a nice, cool, dark hallway was quickly overheated due to numerous bodies + door propped open to 90 degree weather. At 2:30 we were allowed in to the auditorium, our tickets stamped as we walked in.
She was hilarious, as expected. At one point she actually gave us a demonstration of how she knits (she's freaking FAST) - right needle tucked under her arm, moving only the left needle. Of course, the only knitting she had with her was the sock, so this demonstration was done on the garter-stitch scarf of the lady sitting on the front row (my neighbor from before, line member #1). Stephanie demonstrated both knitting and purling, and then started to tink it so as not to upset the lovely garter stitch Violet had going on. Violet refused, and I'm sure she will display those purls with pride at her next SnB. I know I would.
She ended up speaking for more than an hour, and then signed books at the end. She announced that she would allow "pre-boarding" for anyone who needed to dash - the elderly woman with the walker, for instance, or the yarn store owner who was rushing back to open up for all the knitters who wanted to migrate there afterwards. After those people, we were called up in the order of the stamp on the back of our tickets. I was number 17 - wooo! (This was much better than my original ticket number - #242.) I'd been feeling bad about bringing three books - my own, Harriet's, and the one I'll be giving my coworker tomorrow. But I saw someone in front of me with five, and then I didn't feel so bad. Time passed and it was my turn, and she was gracious and funny and even took a picture of me with my first sock. Then I handed my camera to the lady behind me in line, and we took a picture...me holding the traveling sock, and her holding my sock.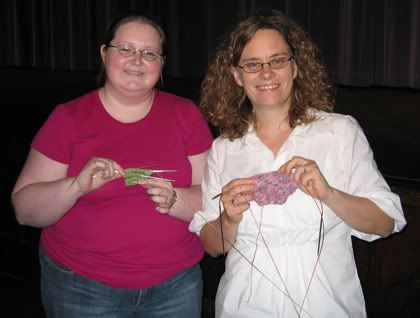 Sadly, I will have to frog it as it's turning out way too big. I know I have cankles, but it's 9.5" in diameter, unstretched. I'd gotten quite a bit done on it, too - about 3.5" from the cast-on edge. Oh well. I'll start over and at least it'll still be the same yarn...maybe I'll even try something more than a stockinette sock while I'm at it.
I never did find the woman from the bookstore again. I left shortly after getting my books signed, and went back to Borders to pick up my husband. We got a bite to eat and headed home, arriving around 9:30 last night. It was a fun trip, but I'm glad to be back home!
Labels: socks, WIPs, Yarn Harlot