Startitis
According to Ravelry, I only have ONE project on the needles right now! Okay, so I technically have three unfinished projects - my latest Clapotis, Pea Pod Baby Sweater #3, and Mom's Calorimetry - but since the last two lack only buttons, "Clap Happy" is the only thing I have on the needles right now. Time to cast on!
Mr. Nekkid and I drove to Wichita for New Year's Eve. The timing was coincidental - we just both had the day off so we decided to head up there. We'd hoped to hang out at Watermark Books, but they closed early so it didn't happen. I went to Twist, and picked up some souvenir yarn: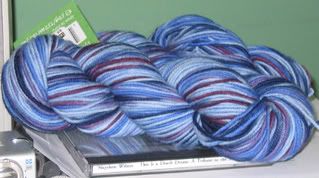 Mirasol Chirapa, in colorway 703. I bought two hanks without really having plans for it...but as soon as I got home I realized I had to have a Clapotis out of it. Two hanks wasn't nearly enough, but the kind folks at Twist are shipping me four more hanks (which should leave me with nearly two left over). Here's where I was a couple days ago: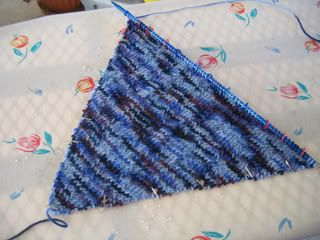 I finished row 5 of increase repeat 7, so I have 13 more rows to go to the straight rows. It is ridiculous how excited I am at the prospect of dropping the stitches in this section.
I finished Mr. Nekkid's gloves, but I only have a WIP picture: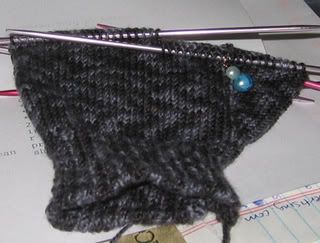 He's very happy with how they turned out.
I also made a pair of convertible mittens for my supervisor's sister: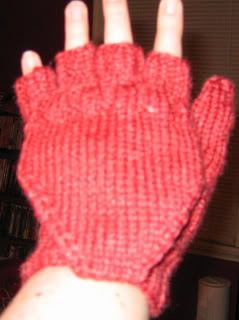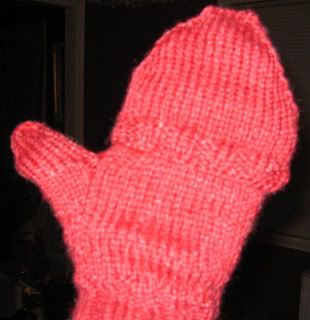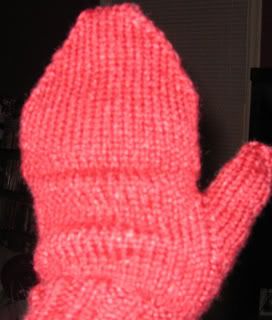 Kindly forgive the crappy quality - after all the times I ripped them out and restarted, I just wanted the damn things out of my sight. They are made out of the incredibly luscious Joann Sensations Dreamweave, a 75% wool/25% silk blend. The red is not as bright as the picture would have you believe, but it's still a nice color.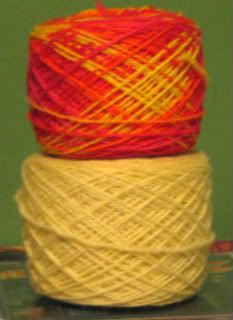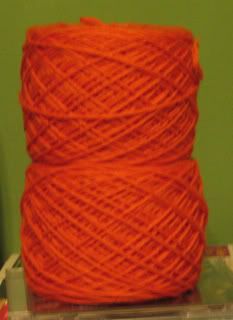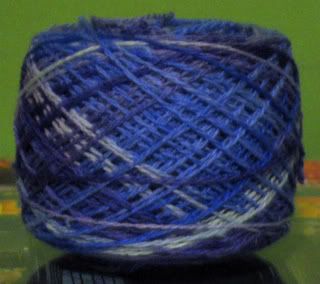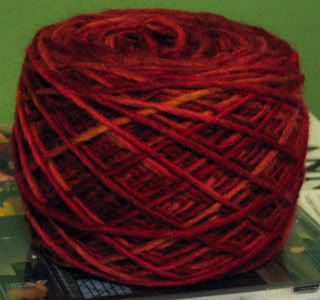 My supervisor's mother is a knitter, and I guess she decided she wouldn't use this stuff, so she gave it to me. From the top:
- W bar M Merino variegated laceweight, red-orange-pink, approx 250 yds.
- W bar M Merino fingering (?) weight, pale yellow, approx 250 yds.
- Two skeins Cascade 220 in orange
- Mystery Yarns: these were unlabeled. The blue-purple yarn feels very similar to the W bar M laceweight, so it may just be another colorway of that. The other one is definitely wool, probably aran weight. I'm going to make a striped hat out of it and the orange Cascade.
I think I'm also ready to start swatching for Twist + Shout. I received the 3 additional balls of Tesoro from the kind lady on Ravelry, so I want to get started. Maybe it'll be done by next winter. :)