Snow day!
At least, I'm hoping for one tomorrow. Meanwhile, I've been surprisingly busy...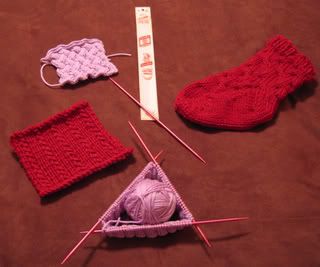 Upper left: swatch of Solid Woven Lattice from p183 of Donna Kooler's
encyclopedia of knitting
(although it's probably in most stitchionaries). One strand of Caron Wintuk (100% acrylic) in Soft Lilac, Crystal Palace US 9 bamboo needles.
Lower left: swatch of Vertical Weave from p6 of Leisure Arts Little Books
Beginner's Guide Knit Stitches & Easy Projects
(again, probably in most stitchionaries). Leftover yarn from Cabled Christmas Stocking.
Bottom center:
Odessa
in progress. Made from
Jo-Ann Sensations Bellezza Collection Tesoro
(100% wool) in Purple, currently on my cool and totally retro Susan Bates SilvaLume DPNs, US 6. (They're really long, but I love them!) I'm really hoping to finish this this weekend, actually, because it done got COLD here. Current temp is 23 F, and there's at least 6" of snow on the ground. I'm reasonably certain that I'm not going to work tomorrow, even if the office is open.
Upper right: Finished Cabled Christmas Stocking! There will be no close-up of the toe, because I totally hosed the grafting. But at least I know what I did wrong, and it's just a stocking, not a sock. Here's a slightly closer pic, though: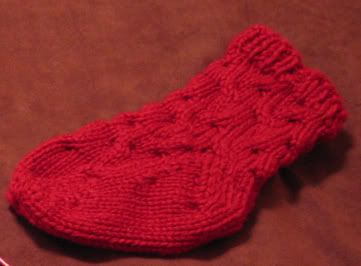 Top center: Package for my cool and totally retro Susan Bates SilvaLume DPNs. I inherited these (as well as another set in US 8) from my grandmother. I wish she'd had more...they're fantastic. They're slick aluminum, but not
too
slick. The surface is ever so slightly textured so stitches don't just jump off. But here's what's cool about the package: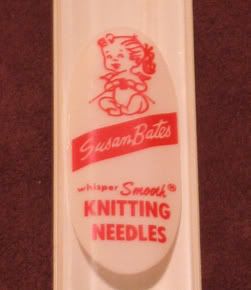 Hee hee! Apparently they're going for "smooth as a baby's bum" or something. I heart retro graphics! The best part: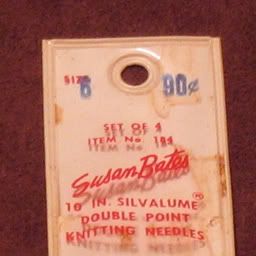 These originally cost 90 cents. Oh yes, and the backdrop all these lovely pics? That would be my luscious new
chocolate brown microsuede duvet cover
. Totally machine washable, and totally cheap. I paid $19.99 for it and the two matching shams from Amazon. I even got free shipping because I was buying something else too and spent over $35 ($25?). The $19.99 price seems to come and go, but at the time I'm posting this - 11:02 central time - it's available. (Note that the color is much better on Amazon's site - mine is affected by the crappy lighting in my bedroom.)
Anyway. Assuming that the roads are at least somewhat passable tomorrow, I'm totally going to go to the
LYS
and get help with the baby sweater. Pics will follow!
Labels: Cabled Christmas Stocking, FOs, hats, Odessa, WIPs