We have a new member of the family!
This is Tallulah!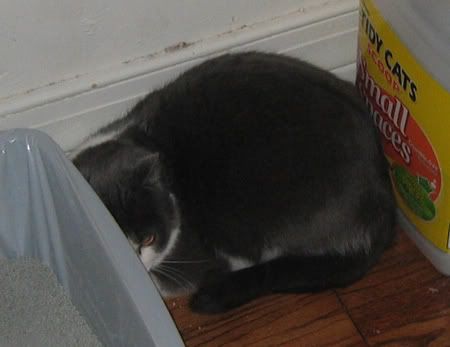 She's making herself invisible, you see. Poor thing is scared out of her wits...new place, new people, new everything. We're hoping she'll venture out and eat and drink something while we're asleep tonight. Meanwhile, if she must be holed up somewhere, near her litter box is a good choice I suppose.
Moving on...Odessa was taking too long so I temporarily abandoned it in favor of making a hat to match the Wifey scarf. This took about as long as watching
O
,
Napoleon Dynamite
, and
Office Space
. Sadly, it's a little big, but it easily pulls down to cover my ears and even a low ponytail so it's not too bad.
Yarn: 1 skein plus a bit of Debbie Bliss Cashmerino Superchunky
Needles: Crystal Palace DPNs sz. US 10.5
C/O 80 stitches, moss stitch for ~1", stockinette for the rest. I began the decreases at about 5.5". I think I might try another one, this time with 75 stitches, and it will probably only take one skein. I know I could just frog this one, but I have enough of the yarn to just start over and that will be faster than undoing everything first. :)
Oh, and I did get a snow day on Friday. :)