Adventures in Kool-Aid dyeing, take 2
I found a skein of Lamb's Pride Bulky in "Creme" tonight, so I decided to give KA dyeing another go. First, I wound the yarn into a hank using my handy dandy swift!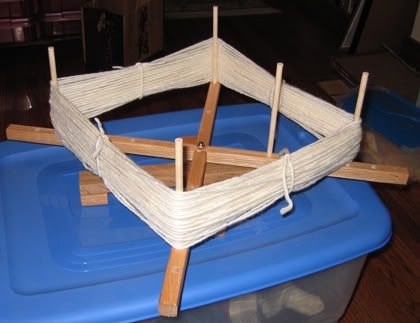 (Lesson learned #1: a small-diameter hank = three days' drying time.)
After soaking, I laid the yarn out on a flattened-out trash sack on the counter.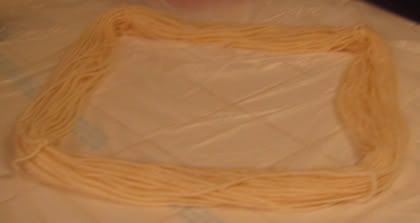 (Lesson learned #2: no matter how good Saran Wrap sticks to itself, if there is a seam, the water will run through it and stain your counter. Lesson learned #3: bleach works quite well to clean it up.)
Next came black cherry, two packets to 8 oz. water. (Is that Kool-Aid or is it...BLOOD?!? Muahahahahahaha!!!)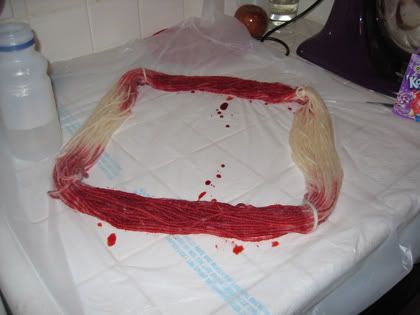 (Lesson learned #4: pouring it out of a glass does not work so well. Cheapy sports bottles from Walgreen's made it much easier to apply the dye.)
And here we are after applying dye #2 (two packets of grape in 8 oz. water) and microwaving. Looks a bit like intestines, actually...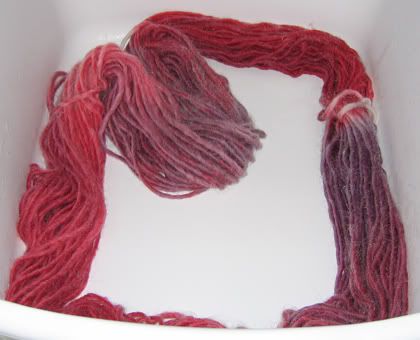 (Lesson learned #5: grape comes out more grey than purple. oh well...maybe I can make something and market it to goths.)
The yarn is happily soaking now. I'm very, very pleased with the black cherry color and I will definitely do that part again. The grape, eh, we'll see how it looks once it's knit up.
Labels: kool-aid dyeing