Adventures in Kool-Aid dyeing
This started out as Cascade 220 in a pale pink color. I used some black cherry koolaid. It didn't turn out quite like I wanted - I was aiming for a striping effect by dyeing two wedges with the KA and leaving the rest intact - but I think it's still pretty. It'll probably end up being a charity hat. I just wanted to try it more than anything, and I learned some lessons. Like, I don't care how many people recommend Saran Wrap...next time, I'm using a cookie sheet. I had to use more than one strip of Saran and even though I overlapped them, the dye still seeped between the strips and stained my countertop a little bit. I'm also probably going to go to the beauty supply store and get a few hair dye-esque squeeze bottles.
Next up,
Dream Swatch
.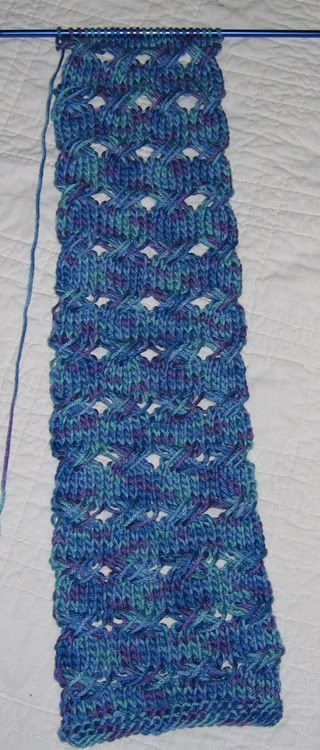 This is Tahki Yarns "cotton classic color" in colour 104. This is going pretty quick, and I started it mostly because I needed something non-black and non-wool to work on. Why, you ask? Because of this: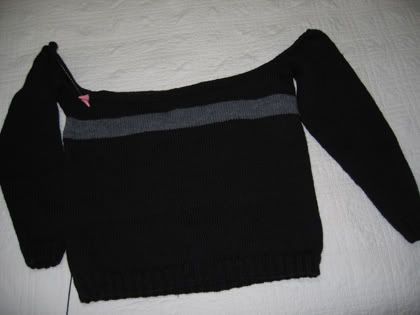 Sweater for Mr. Nekkid, very near completion (at least, compared to the last time I photographed it). It's been disgustingly hot, and naturally this is like a small double-thick wool blanket in my lap. Ugh. I hope this proves that I love him, because if knitting half a pound of wool sweater in the summertime in Oklahoma isn't love, I don't know what is.
Oh yes, one more thing. Belated b-day present from Mr. Nekkid:
hee hee :)
Labels: kool-aid dyeing, sweater, WIPs